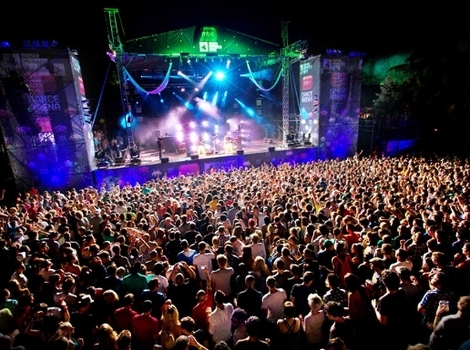 Neprikosnoveni uticaj na savremenu elektronsku scenu predstavit će kultnim numerama "Open Up", "Release the Pressure", "Afrika Shox", "Afro Left", "Original", "Swords", "Phat Planet" i mnogim drugim.
Nakon dvije nominacije za prestižnu Mercury nagradu i albuma "Rhythm and Stealth", koji je dostigao prvo mjesto na britanskoj top listi, Leftfield će novi album "Alternative Light Source", prvi poslije 16 godina objaviti već 8. juna, a kao apsolutni hit singl već se izdvojio "Universal Everything".
Začetnik tropskog house zvuka, Thomas Jack, pridružit će se impresivnoj postavi mt:s Dance Arene, premijernim nastupom u subotu 11. jula. Talentovani australijski muzičar donosi pozitivnu ljetnu energiju sa hitovima koji su zapalili internet, poput "Final Speech" i "Symphone". Uz ovogodišnju selekciju Dance Arena rezidenta, kompletiran je impresivni spisak izvođača po danima, pa prve večeri, u četvrtak 9. jula, veliku rođendansku žurku pokrenut će: Adam Beyer b2b Joseph Capriati, Chris Liebing, Octave One, Nicole Moudaber, Dejan Milićević, Lea Dobričić i Marko Milosavljević.
Iduće noći, u petak 10. jula nastupit će: Hardwell, Oliver Heldens, Catz 'n Dogz, Kölsch, Kill the Buzz, Mirko & Meex i Rise & 5hine.
Za subotnju ludnicu 11. jula, pobrinut će se: Martin Garrix, MK aka Marc Kinchen, Thomas Jack, Francesca Lombardo, wAFF, Marko Nastić, Peppe i Doo b2b Vem.
Za finale u nedjelju 12. jula, na jednom mjestu okupt iće se: Leftfield, Dixon, Tale of Us, Simian Mobile Disco b2b Roman Flügel, Klangkarussell, Kristijan Molnar i Mene.
Zbog velikog interesovanja, legende elektronske scene Faithless, nastupit će u punom koncertnom sastavu uz proširenu produkciju, za prvo ikad gostovanje mt:s Dance Arene na glavnoj bini Exita, uz pravi spektakl u festivalskoj završnici 12. jula.
Učitavam...
Čim su Neil Barnes i Paul Daley osnovali Leftfield, odmah su iskočili iz okvira tadašnjih muzičkih žanrova. Zbog toga su izmislili novo ime za svoj muzički pravac, progressive house koji je nastavio da živi kroz brojne druge izvođače. Britanski magazin Mixmag, s punim pravom ih je opisao kao "ubjedljivo najuticajni produkcijski tim britanske dance muzike".
Debi album "Leftism", važi za ključnu tačku u muzičkoj historiji, koja je trajno obilježila savremenu elektronsku muziku, a zahvaljujući kolosalnom hitu "Open Up", na kojem je učestvovao John Lydon iz Sex Pistolsa, čitaoci Q magazina su ovaj album izglasali u 10 najboljih albuma svih vremena. Naredni "Rhythm and Stealth" je osvojio prvo mjesto britanske liste 1999. godine, a vodeći singl "Phat Planet" iskorišten za višestruko nagrađivanu reklamu za Guinness. Na tom izdanju radili su i Roots Manuva i Cheshire Cat, te Afrika Bambaataa na hitu "Afrika Shox", koji je ušao u top 10 liste singlova.
Thomas Jack je dvadesetogodišnja senzacija u usponu, sa prepoznatljivim tropskim house zvukom, inspirisanim njegovim životom u Australiji i Mamiju. Mlada zvijezda je već rasplamasala internet, osvojivši prvo mjesto na Hype Machine listi čak četiri puta, izdavši singl "Final Speech", uz druge hit-remikse. Njegov autorski rad "Symphone" donosi originalne kompozicije uz saksofone, trube, violine i brojne perkusije za pravu tropsku žurku na Exitu.
Svoje nastupe na ovogodišnjoj, ultimativnoj Exit Avanturi, od 9. do 18. jula, za jedno od najjačih programskih izdanja ikad, dosad su potvrdili Manu Chao, The Prodigy, Mötorhead, Rudimental, Faithless, Roisin Murphy, Emeli Sandé, Hardwell, Sigma, John Newman, Capital Cities, Clean Bandit, Tom Odell, Martin Garrix, Gramatik, Leftfield, Tale of Us, Adam Beyer, Chris Liebing, Wilkinson, Eagles of Death Metal, Fear Factory, Zomboy, Roni Size Reprazent, Bondax, Napalm Death, Dubioza kolektiv, Octave One, Soul Clap, Hladno pivo, Zoster, Rambo Amadeus, Artan Lili, Lola March, 1000mods i brojni drugi za ukupno više od 1.000 umetnika na 30 festivalskih bina od Petrovaradina do Jaza!